Different Types of Hydraulic Fittings
Hydraulic fittings are indispensable components in hydraulic systems as they guarantee the safe transportation of fluids. There are various types of hydraulic fittings designed for different fluid environments. What are the particular types of hydraulic fittings available in the market?
Why do you need hydraulic fittings? Hydraulic fittings are connection components used to connect tubes and equipment in hydraulics. They allow gases, liquids, dust, and semi-solids to pass safely through the hydraulic products.
Different hydraulic systems require different types and standards of fittings, resulting in a variety of fittings with unique appearances, threads, and benefits. Proper use of these fittings is essential to ensure the hydraulic system operates normally.
This article will describe the types of hydraulic fittings in detail, so please continue to read.
Hydraulic fittings catalog
Hose fittings have a hose end at one end and can be used to connect hoses. The other end has different types of threads. The threaded end can be used with couplings, pipes, and hydraulic machinery.
Hydraulic hose fittings are available in straight, 30-degree elbows, 45-degree elbows, and 90-degree elbows. These different elbow fittings and adapters can be used to change the direction of the fluid or the height of the line in the hydraulic system. For more info, consult a professional!
Hydraulic adapters are a broad category, which is a general term for many types of adapters. The ends of common adapters are threaded ends, including various types of threads. These ports can have the same type of thread or different types of threads. The different types of threads allow the fitting to connect two or more components of different sizes and with different roles.
Adapters are commonly applied in a variety of hydraulic environments and they ensure the proper operation of hydraulic systems. Topa has a complete range of hydraulic adapters, including tube fittings, male fittings, NPT, and JIC with guaranteed quality. Please contact us!
A hydraulic bulkhead adapter is used to connect hydraulic components through the plate or cylinder wall. It consists of a fitting and a nut that passes through the obstruction and a nut that holds the fitting in place and together they form a tight connection.
Bulkhead fittings are available in NPT, BSPP, and JIC threads and can be used in automotive, aerospace, and industrial applications.
Both tee and cross fittings can combine or separate fluids in a hydraulic system. Tee fittings have three ports, which can be the same thread or different threads. A cross has four ports and can split the fluid in three directions. Tees and crosses can be adapted to complex hydraulic environments, ensuring the safe connection of multiple hydraulic lines.
Used in the automotive, industrial, and construction industries, tees and crosses ensure the smooth transfer of fluids in hydraulic systems.
Plugs and caps are essential components of a hydraulic system. They are used to close and seal the end of a hydraulic system to prevent contaminants from entering the system and causing damage.
Plugs are male-threaded fittings that connect to the female-threaded end of the hydraulic system to form a seal. The cap is a female fitting that seals the male threads to prevent contaminants from entering the system. It's important to make sure the cap is securely in place to protect your hydraulic system from dirt and other harmful particles.
Plugs and caps are key accessories for the safety and cleanliness of hydraulic systems, and they play a huge role in construction, transportation, agriculture, and industry.
Flange hydraulic fittings can be secured by flange clamps, bolts, and screws. Flange fittings can withstand different levels of pressure, such as 3000psi, 6000psi, and 9000psi. 3000psi flange is called SAE Code 61 flange and 6000psi flange is called SAE Code 62 flange.
Flange fittings are available in different sizes, threads, and materials. The common threads used for flange fittings are JIC, metric, and ORFS.
Reusable fittings are split fittings that consist of two parts: the fitting and the ferrule. These couplings can be used to connect hoses and other components, and the ferrule holds the hose in place. Reusable fittings are available in a wide range of thread types including JIC, BSP, NPT, metric, and SAE.
Reusable hydraulic fittings are easy to remove and install without the need for additional tools. These fittings are commonly used in applications that require field disassembly, reducing time wasted and maintenance costs.
One-piece hydraulic fittings are one of the most popular types of couplings. These fittings are one piece and cannot be disassembled, eliminating the need for additional components. They allow the fitting to be permanently mounted to the hydraulic hose, creating a strong connection.
One-piece hydraulic fittings can be used in high-pressure environments and can withstand extreme environments. Industries such as gas, mining, and construction require these couplings to reduce the risk of machine operation and to ensure the proper functioning of hydraulic systems.
Parker one-piece hydraulic fittings are the standard fittings and Topa can produce Parker standard one-piece products, feel free to contact us!
Push lock fittings are also known as push-to-connect and push-on fittings, they have a barbed end and a threaded end. The barbed end can be installed directly into the appropriate size hose, while the threaded end can be connected to the appropriate component to form a secure and reliable connection.
Push lock fittings generally do not require additional clamps to secure them, so they are primarily used in low to medium-pressure applications. They are easy to install and disassemble, significantly improving the efficiency of hydraulic systems and reducing operating costs.
Compression fittings, including nuts, ferrule, and joints, are commonly used to connect hydraulic hoses and hydraulic parts of different sizes to form a leak-free seal. One-piece or two-piece ferrule fittings with one or two ferrules (olive) may be used depending on your needs. These fittings are the stars of any hydraulic system.
Compression fittings do not require additional sealants or gaskets and are easy to disassemble, so they are suitable for use in air conditioning, brakes, and refrigeration systems.
Hose barb fittings are hollow fittings that have a barb on one end and a thread on the other. The barbed end can be installed directly into the hose, allowing the hose to expand and deform, and then securely fixed.
Hose barb fittings are very common fittings, they are widely used for their high performance, convenience, and value. Barb fittings can be used in low-pressure fluid applications and generally do not require additional clamps to hold them in place.
Quick couplings are "fast" in that they can be installed and removed quickly, are not easily dislodged, and have a strong seal. Quick couplings typically include NPT and BSP threads, both of which are commonly available for many applications.
Hydraulic quick-release couplings consist of a plug and a socket that allow fluid to pass directly through when they are mounted together. If disconnected, the valve in the quick coupling closes, preventing fluid from leaking.
The tight construction of quick couplings ensures the safe transport of fluids as well as gases in piping systems, including hydraulic hoses. The use of quick couplings may be required for applications such as industry, transportation, oil, and gas.
Ferrule is a cylindrical metal component that can be used with hydraulic hoses. Ferrules include standard ferrule,crimp-on ferrules, and reusable sleeves. Crimp-on sleeves are permanently installed by a crimping machine and cannot be removed. Reusable sleeves can be installed with screws and they can be disassembled for multiple uses.
Sleeves are generally available in stainless steel and carbon steel and can be galvanized or plated to improve aesthetics and corrosion resistance.
Banjo hydraulic fittings include hollow bolts and ball couplings that connect pipes and hoses. Banjo bolts allow fluid to flow from the inside of the coupling and out through small holes in the side, thus ensuring proper system operation.
These fittings are commonly used in automotive brakes, fuel, and hydraulic systems to control fluid pressure and performance.
Grease fittings are used to inject grease into bearings. They are also known as zerk fittings and grease nipples. The tip of the grease fitting has a ball that prevents contaminants from entering.
Grease fittings are available in steel, stainless steel, and brass and can be used in aircraft bearings and similar applications.
Camlock couplings are a special type of quick-release coupling that has the advantage of being easy to install and simple to operate. There are many types of camlock couplings, such as types A, B, C, D, E, F, DP, and DC. These different types are different in appearance and use.
Camlock couplings are suitable for dirty environments and will not be damaged by contaminants, so they are used in many applications. Camlock couplings can be found in industries such as oil, transportation, and industry.
Test point fittings can be installed at pressure measurement points to check the pressure in a hydraulic system and troubleshoot factors. Test point fittings can be used without shutting down the hydraulic piping system, reducing the cost of downtime.
High-performance, durable test couplings are used in cranes, hydraulic presses, construction equipment, and oil and gas applications.
Swivel fittings allow the hose to follow the fitting and prevent it from kinking or twisting. They are usually made of metal, which increases durability and strength.
Contact us for more information!
Threads of hydraulic fittings
Because of the special characteristics of swivels can be used in tight places, reducing damage to the hose and reducing maintenance costs.
Almost all hydraulic fittings have threads that distinguish the type of fitting, and determine the standard of the fitting and the use environment. Each type of threaded fitting differs in thread angle, profile, and cone seat.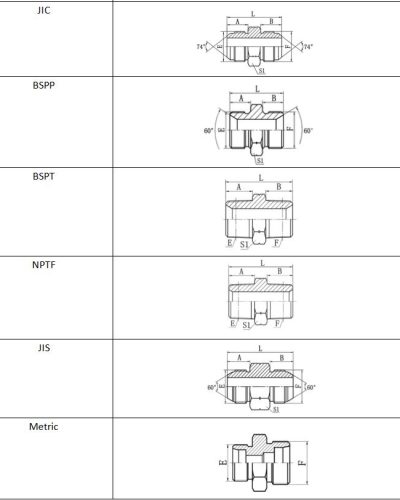 JIC (Joint Industrial Council) hydraulic fittings are straight threads with a 37-degree flare seat, they are generally SAE J514 standard. JIC male fittings can be used with female fittings to form a metal-to-metal seal without the aid of a seal. Those fittings are American standards and are popular in the US and European countries.
SAE(Society of Automotive Engineers) 45-degree hydraulic fittings are SAE J512 standard with a 45-degree cone to form a tight mechanical connection. SAE fittings are commonly used in low-pressure applications such as fuel lines and refrigeration systems. And they are not compatible with JIC 37-degree fittings.
SAE O-ring boss male hydraulic fittings include an O-ring and straight threads, while the female fittings include chamfers and sealing surfaces. The male and female connectors are installed together to form a tight seal.
BSP (British Standard Pipe) is a british standard fitting that is popular in Europe and the U.K. BSP hydraulic fittings include a 30-degree cone and can be divided into BSPP (British Standard Pipe Parallel) and BSPT (British Standard Pipe Taper) two types.
BSPP fitting is straight thread fitting, it's thread is parallel. This type of fitting can be sealed by metal seal or sealant.
BSPT fittings are tapered threads, which are similar to NPTF fittings. However, there is a difference between these two threads: NPT thread has a 60-degree taper, while BSPT thread has a 55-degree taper. This difference is not very obvious, so you can use a thread gauge to measure the difference.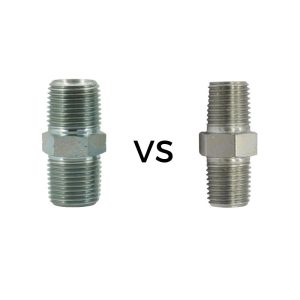 There are two types of NPT hydraulic fittings: NPTF fittings and NPSM fittings.
NPTF (National Pipe Tapered Fuel) fitting is dry seal fitting with a 60-degree thread taper. After installing the male fitting to the female fitting, the threads are deformed to a certain degree, creating a seal. NPTF fittings are typically used in fluid power systems and provide a good connection.
NPSM (National Pipe Straight Mechanical) fitting is a straight threaded fitting on both male and female ends. They both have a 30-degree chamfer to create a mechanical seal and are commonly used in fluid power systems. NPSM female fittings can be used with NPTF male threads.
The Metric/DIN fitting is a US standard fitting with a 24-degree taper. They include parallel threads and tarped threads. Straight thread fittings need a sealant or an o-ring to create a strong seal. Ans tapered metric fittings can set a metal seal by male and female threads.
JIS(Japanese Industrial Standard) is a Japanese thread and is commonly used in Asian countries. It includes tapered JIS hydraulic fittings and 30-degree cone JIS fittings.
Both male and female threads of tapered JIS fittings have a certain taper, similar to BSPT threaded fittings, and both can be used together.
The 30-degree cone JIS fitting has parallel threads and is divided into male inverted seat fittings and 30-degree angle female fittings. The male inverted fittings are similar to BSPP fittings in that they both have a 30-degree chamfer and can be used interchangeably. 30-degree female JIS fittings are identical to JIC 37-degree fittings in that they have the same sealing form, but they are not interchangeable.
ORFS(o-ring face seal)hydraulic fittings are straight threaded and have an O-ring installed in the groove of the male end to form a seal with the female end, which improves sealing and reduces vibration damage.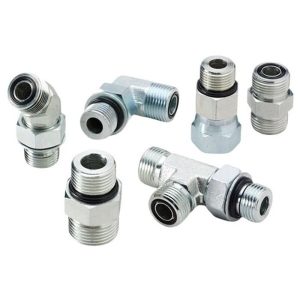 AN (Army-navy)hydraulic fittings are flared fittings with a 37-degree angle to create a metal seal. This type of fitting is mainly used to connect hoses and metal pipes. It is similar to JIS hydraulic fittings and is theoretically universal, but it is not recommended and used interchangeably.
This article describes the types of hydraulic fittings in general, if you still have doubts, we can help you!
How to measure hydraulic fittings?

How to seal hydraulic fittings?

How to identify hydraulic fittings?

How do you stop a hydraulic fitting from leaking?

How tight should hydraulic fittings be?

How to attach hydraulic hose fittings?