Description
Plug in Run Tee Composite PTC Fitting
This is a plug-in stem run tee, it is a composite PTC fitting. This plug-in male run tee fitting is the epitome of convenience, allowing for fast and efficient work. DOT push-on tees are made of strong, lightweight composite materials that are impact and corrosion-resistant and meet strict SAE and D.O.T. compliance.
Applications:
• Air brake systems
• Rail
• Air tanks
If you need more information, or to take an order, please contact us!  Topa will make sure you get the quality and efficiency you deserve.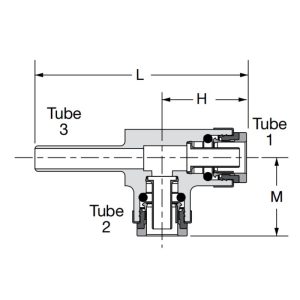 Part#

Tube Size(1*2*3)

H

L

M

Description

363PTC-04-04-04

1/4*1/4*1/4

0.78

1.84

0.76

Plug-In Run Tee

363PTC-04-04-06

1/4*1/4*3/8

0.78

1.98

0.76

363PTC-06-06-06

3/8*3/8*1/4

1.01

2.11

1.01

363PTC-06-04-06

3/8*3/8*3/8

1.01

2.25

1.01

363PTC-06-04-06

3/8*1/4*3/8

0.76

2.24

1.01

363PTC-08-04-08

1/2*1/4*1/2

0.96

2.58

1.15
Plug in Run Tee Composite PTC Fitting Video
This video is about the straight DOT push-in fitting. All of our DOT run tee fittings are manufactured by CNC machines, and each one is heavily tested to meet your needs.
This DOT fitting meets SAE as well as DOT international standards and is ideal for all your air brake and airline needs. We also offer custom configurations and sizes to meet your unique needs.
If you need composite dot air fittings or have doubts, welcome to contact us!