Top 10 Hydraulic Fittings Manufacturers
Hydraulic fittings are the backbone of a hydraulic system, connecting various components and facilitating the flow of hydraulic fluid. Currently, the hydraulic fittings industry has a market value of around USD 10 billion and is expected to grow by nearly 70% by 2025. Developments in industries such as automotive, petrochemical, and energy are driving the growth trajectory of the hydraulics market, especially in emerging markets.
The key to the efficiency and longevity of hydraulic fittings lies in the material. Common materials used for hydraulic fittings are carbon steel and stainless steel. In addition, carbon steel is galvanized or Cr3+ electroplated to enhance the corrosion resistance of the product. Moreover, to choose the right manufacturer, one needs to observe the company's service awareness, shipping services, product standards, and customization services.
In this article, we will take an in-depth look at the leading manufacturers of hydraulic fittings and talk about their product range and unique attributes.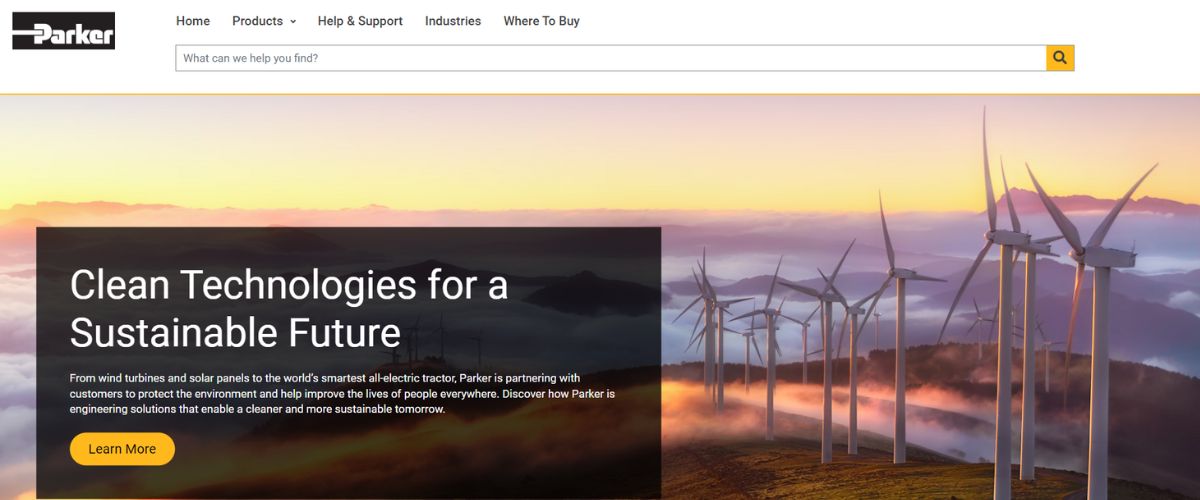 Overview:
Parker Hannifin has a rich history spanning more than a century. They are a global leader in motion and hydraulic technology. Parker provides precision-engineered solutions for a wide range of mobile, industrial, and aerospace markets. Dedicated to promoting innovation and ensuring customer satisfaction, Parker Hannifin has become synonymous with quality and reliability in the hydraulics industry.
Products:
Parker Hannifin's product portfolio covers a wide range of cutting-edge products. From hydraulic components that power heavy machinery to integrated fluid power systems that optimize efficiency, Parker Hannifin meets the needs of a wide range of industries. Their aerospace solutions enhance aviation safety and performance through hydraulics and flight control systems. Each product reflects its dedication to excellence and precision engineering.
Features:
Innovation is Parker Hannifin's pursuit. Their unwavering focus on research and development continues to push the boundaries of hydraulic technology. Parker Hannifin operates globally, but with a localized focus, ensuring that its solutions meet the needs of its multinational customers. Its tradition of quality and reputation for reliability has made it a stalwart of the hydraulics industry, synonymous with excellence.
Website: https://www.parker.com/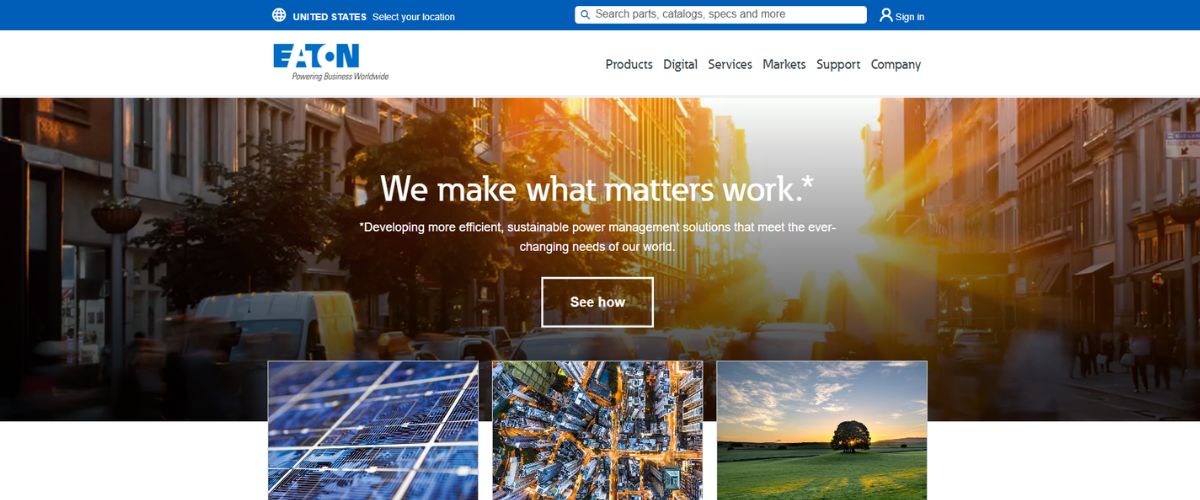 Overview:
Eaton is a global leader in power management, and they blend innovation and sustainability in the hydraulics industry. In addition to their core expertise in power solutions, they have broadened their horizons to master the complexities of hydraulic systems.
Products:
Eaton is committed to delivering unrivaled quality. They can offer a wide range of hydraulic hoses, from single-braid to multi-braid. These products are available for different pressure requirements and are suitable for standard hydraulic systems as well as high-pressure mobile applications.
Unique Features:
Eaton has created a unique hose condition monitoring system. This system alerts operators to potential hose vulnerabilities in real-time. This proactive measure not only reduces risk but also extends hose life. And Eaton created a standard hydraulic coupling type standard that has become a reference for many companies.
Website: https://www.eaton.com/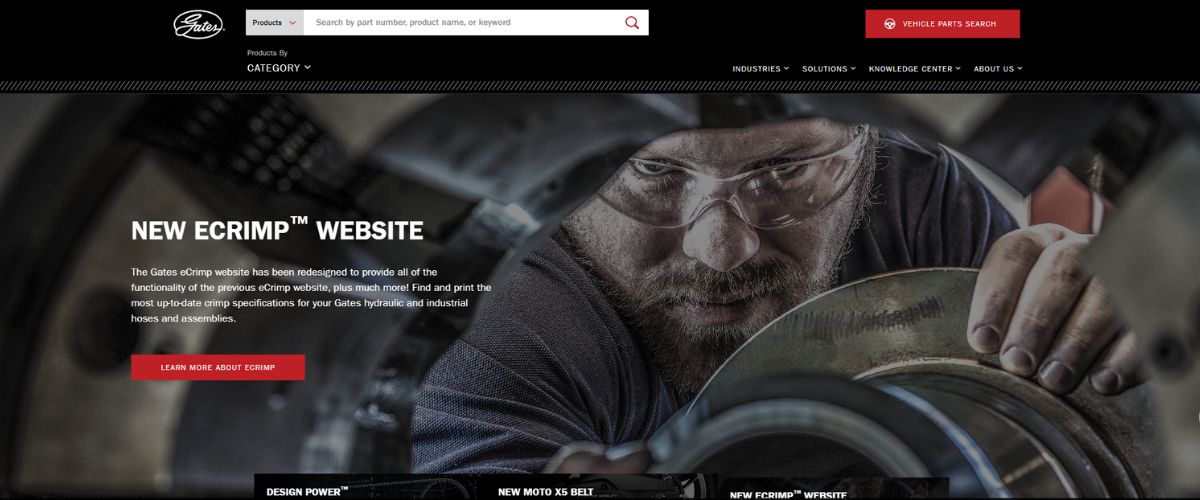 Overview:
Gates Corporation is located in downtown Denver, Colorado. From 1911 to the present day, Gates created a standard of expertise and leadership in hydraulics for fluid power products. Whether for automobiles or industrial machinery, Gates products make a big difference.
Products:
Gates doesn't just make products, they can craft hydraulic solutions for you. Their wide range of hydraulic products extends from low-pressure to high-pressure products. So whether you need everyday hydraulics or specialized hydraulic tools, Gates has your back.
Unique features:
Gates is always staying innovative. And they use the finest metals and adhere to a variety of international standards to ensure that they provide you with the highest quality hydraulic products. Does your industry require customized products? Gates can provide it for you. And with their original hose condition monitoring system, Gates ensures that every hose works safely and without fail every time.
Website:https://www.gates.com/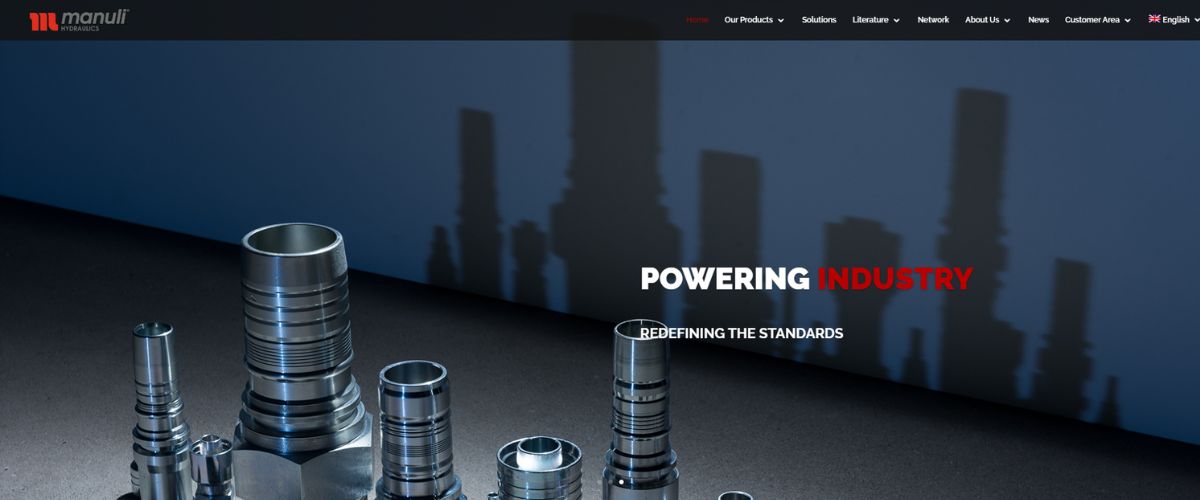 Overview:
Manuli Hydraulics is located in Germany and has been in existence for over forty years. With continuous growth and learning, Manuli Hydraulics has evolved into a global leader in the hydraulics industry. It is very popular in the European and Asian hydraulic markets. Manuli is not just a hydraulic equipment manufacturer (OEM), but a company that provides you with the highest quality hydraulic solutions.
Products:
Manuli is always striving for development and progress, it strives to improve the quality and variety of its products, and constantly expands its production areas.They can offer all ranges of hydraulic products, including different threads of fittings, all types of hoses, and hydraulic valves. Manuli's products are durable and efficient for a variety of applications.
Unique Features:
Manuli is constantly pushing the boundaries of hydraulics, striving to innovate and develop new hydraulic products. It is constantly exploring new metal materials and technologies. With excellent product quality and good service, Manuli has become the best hydraulic products supplier.
Website:https://www.manuli-hydraulics.com/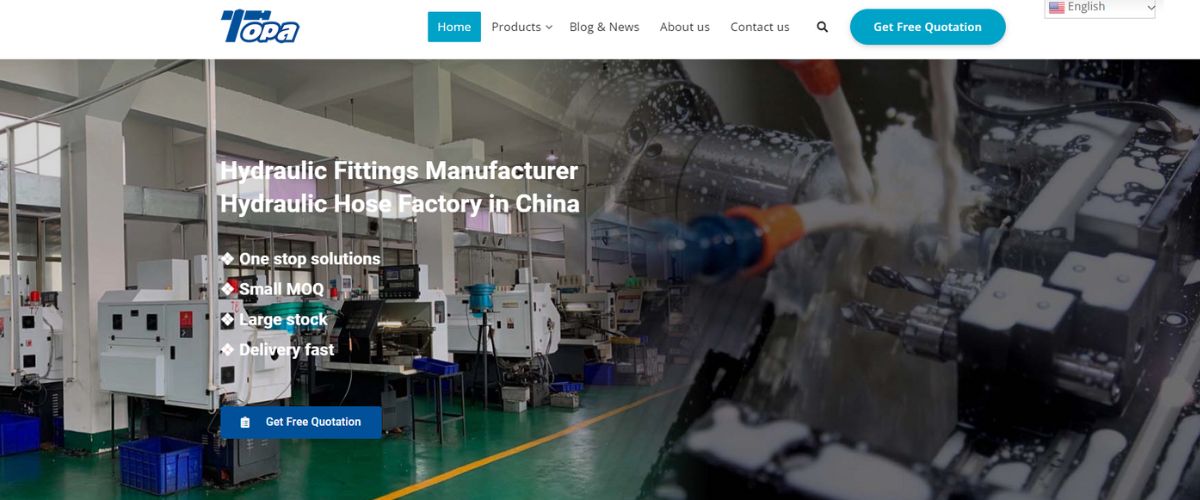 Overview:
Established in 1997, TOPA is a renowned manufacturer of hydraulic components in the field of construction machinery accessories and hydraulic line connections in China.
Products
Topa's product range includes more than 8000 hydraulic components. They not only offer standard hydraulic products, but also customized hydraulic components according to customers' needs. Their hydraulic hoses and fittings are compatible with well-known brands such as Parker, Manulife, Eaton and Gates, ensuring versatility and adaptability.
Unique Features:
Topa strives for superior product quality. They conduct meticulous inspections at every stage, from material surface inspection to final packaging evaluation. This conscientiousness ensures that every hydraulic coupling meets the highest standards of use. In addition, Topa has state-of-the-art CNC machines that ensure fast delivery and optimal product quality.With an experienced workforce and over 20 years of industry expertise, Topa is your trusted partner for hydraulic solutions.
Website: https://www.cntopa.com/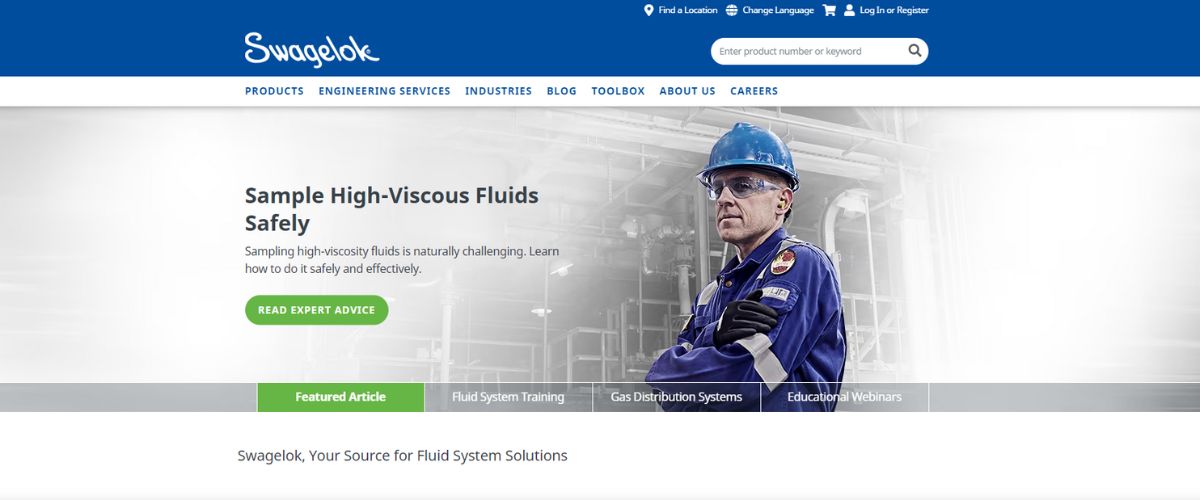 Overview:
Swagelok is a hydraulic industry giant. They are the top leader in hydraulic fluid systems. Swagelok has a very rigorous from material sourcing to aftermarket products and is committed to providing high-quality products for all.
Products:
Swagelok's line of hydraulic products meets the needs of applications in a wide variety of industries. They offer a wide range of hydraulic fluid system solutions. Every Swagelok product guarantees optimal performance in the most challenging environments.
Unique Features:
Swagelok's position in the industry is based not only on its products but also on its company philosophy. They have always adhered to the concept of sustainability, so they also prefer to use renewable energy sources. And the Swagelok advantage goes beyond their products; they are happy to offer a comprehensive training program for every novice. Swagelok quality products have made them highly respected in the fluid systems industry.
Website: https://www.swagelok.com/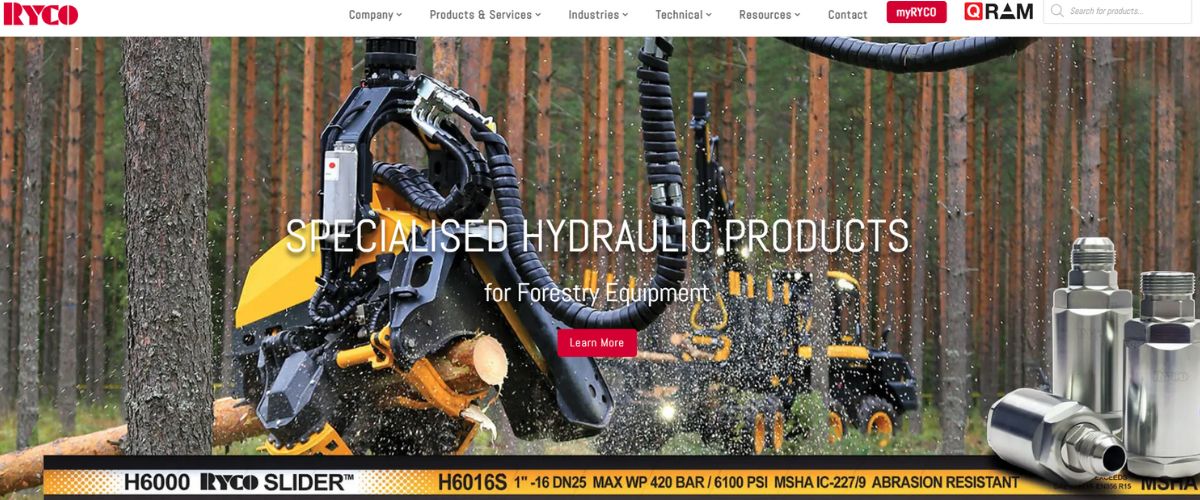 Overview:
RYCO was established 75 years ago in Melbourne, Australia. Since its establishment, RYCO Hydraulics has earned a strong reputation. Nowadays, RYCO is one of the world's top hydraulic suppliers. They are committed to providing superior design, best service, and high-quality products.
Products:
RYCO Hydraulics is a global leader in hydraulic-solving solutions.  They are committed to providing superior, innovative hydraulic products, including hydraulic hoses, hose fittings, and hydraulic valves in all styles and sizes. Whether it's hoses, couplings, or other products, RYCO takes the utmost care to provide each customer with the highest quality merchandise.
Unique Features:
RYCO is known for innovative developments and rigor. They are constantly improving hydraulic problems solving solutions and hydraulic technology. RYCO's hydraulic products can be used in many applications, such as mining, forestry, construction, and agriculture. In addition to supplying products, RYCO offers on-time delivery, after-sales service, transportation, and cost reduction.
Website: https://www.ryco.com.au/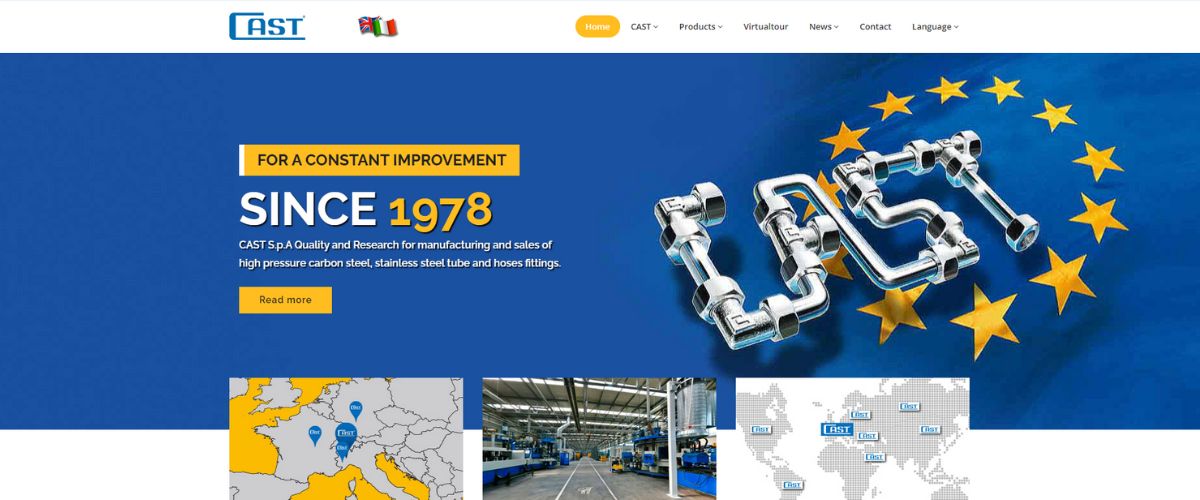 Overview:
Cast S.P.A, located in Italy, is a manufacturer and supplier in the hydraulic fittings industry. Cast is constantly expanding its markets and increasing its sales, and is working to improve the range and quality of its products and consolidate its position in the global market.
Main Products:
Cast has a comprehensive range of products to meet the various hydraulic needs of its customers. Their products include adapters, valves, hose couplings, and high-pressure hoses. Each product is carefully designed for high performance and durability to meet the varied requirements of its customers.
Unique Features:
The hallmark of Cast's success is its unwavering commitment to quality. This commitment is not just empty words, but international standards that validate the excellence of Cast hydraulic fittings. Their dedication ensures that each product meets the specific needs of their customers, providing reliability and efficiency.
Website: https://www.cast.it/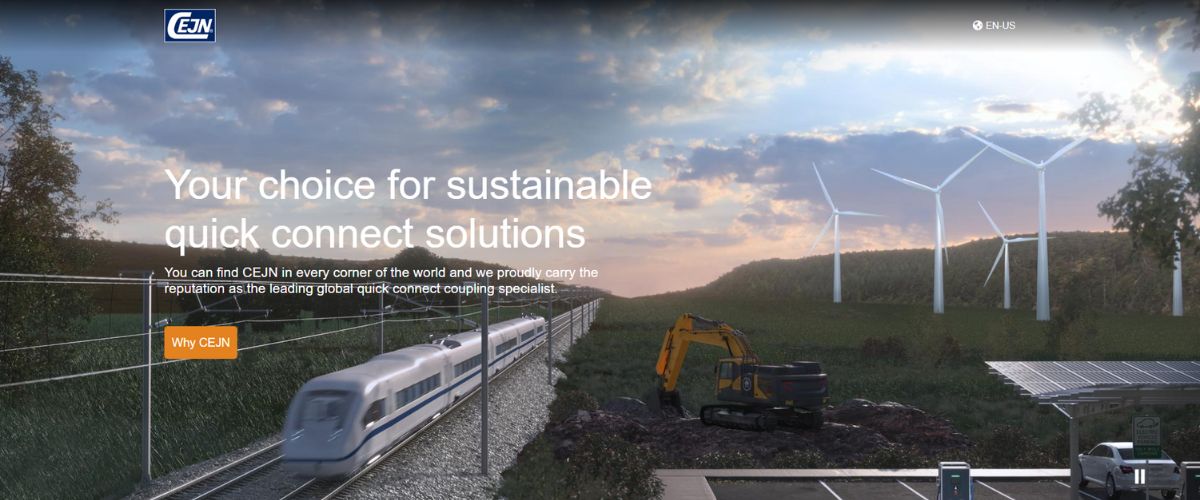 Overview:
CEJN is a globally recognized company known for its sustainable quick-connect solutions. With a presence in every corner of the world, CEJN proudly holds the reputation of being the leading global quick-connect coupling specialist. Their commitment to innovation, performance, safety, and sustainability has made them a preferred choice for various industries.
Products
CEJN, a global leader in quick connect solutions, offers an extensive product range that caters to diverse applications. Their offerings include efficient quick-connect couplings, reliable hoses, and hose kits for fluid and air transfer, precise air and fluid guns, innovative hose, and cable reels for organized storage, advanced multi and auto couplings for seamless connections, high-performance hydraulic pumps, comprehensive pressure testing equipment to ensure system safety, and air treatment solutions to optimize air quality.
Unique Features:
CEJN's dedication to sustainability and responsibility is evident in its approach to product development and business operations. As a third-generation family-owned company, CEJN emphasizes the importance of laying a foundation for future generations. Their commitment to using sustainable raw materials, producing long-lasting quality products, and continuously optimizing their offerings showcases their dedication to both their customers and the planet. Furthermore, CEJN's solutions are backed by a global network of distributors and OEMs, ensuring that their products not only meet but exceed industry standards.
Main products: Quick-release fittings, Hoses.
Website: https://www.cejn.com/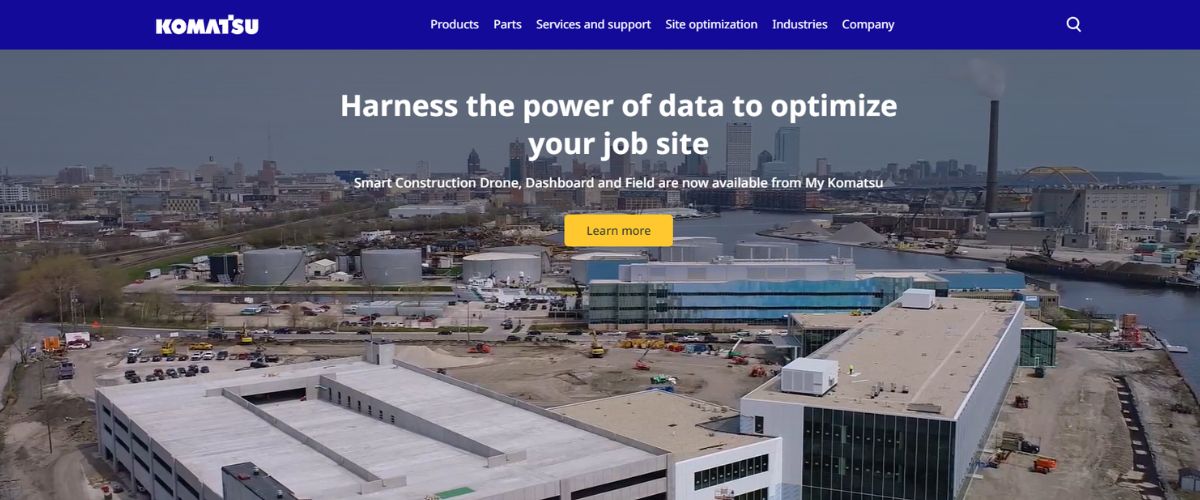 Overview:
Komatsu is a leading global entity, renowned for its expertise in the realm of construction, mining, forestry, and industrial heavy equipment. With its origins tracing back to Japan, Komatsu has expanded its footprint across the world, ensuring that industries benefit from its state-of-the-art machinery and technology solutions.
Main Products:
Komatsu's product spectrum is vast and tailored to meet the rigorous demands of various sectors. Their offerings encompass construction machinery such as excavators and haul trucks, mining equipment that includes underground hard rock bolters, drills, haulage systems, and forestry equipment. Each product is designed with precision, ensuring durability, efficiency, and safety.
Unique Features:
What sets Komatsu apart is its unwavering commitment to innovation and sustainability. The company continually invests in R&D, ensuring that its machinery is equipped with the latest technology and features. Moreover, their dedication to sustainability is evident in their products and operations, emphasizing eco-friendly solutions and practices.
Website: https://www.komatsu.com/en/
Knowing the top hydraulic fittings manufacturers can greatly improve operational efficiency, and this is especially true for businesses that require hydraulic hoses and fittings on a regular basis. The main advantage of sourcing from these top manufacturers is the assurance of high-quality products, standardized inspections, and ongoing support. You need to stay up-to-date with the industry's evolving developments if you are to make informed decisions and ensure the best results for your hydraulic system needs. And buying hydraulic products from Chinese companies can fulfill all your needs.

As a major center of global manufacturing, China has made impressive achievements in the field of hydraulic products. Chinese hydraulic manufacturers continuously invest in research and development, adopting advanced technologies and manufacturing processes to ensure the efficiency and reliability of their products. Thanks to large-scale production and optimized supply chains, Chinese hydraulic products are more affordable while maintaining high quality, bringing great economic benefits to customers. Chinese manufacturers are able to provide customized services to meet specific customer needs, ensuring that products are perfectly suited to their application scenarios. Chinese hydraulic product suppliers value customer relationships and provide comprehensive after-sales support to ensure that customers receive timely assistance and solutions when using their products.
We invite our global partners and customers to come to China to experience and learn about our hydraulic products. We believe that by partnering with a hydraulic manufacturer in China, you will not only receive high-quality products but also unparalleled service and support!