Push to Connect Composite DOT Fittings Manufacturer
PTC and PTCR fittings are brass composite push-to-connect fittings that meet SAE and D.O.T. standards. These fittings consist of a composite body, a brass fitting, and a retaining mechanism. They are very quick and easy to install, saving installation time. Composite DOT fittings are mainly used on buses, trucks, trailers, and all other types of mobile equipment.
Composite DOT push-connect fittings are valued for their unique combination of materials, with a body made of plastics, metals, and other composites, and threaded fittings made of brass. Their special design allows them to perform exceptionally well. Different types of composite push lock fittings can be used in different environments. Topa can provide all classifications of DOT push-in fittings, Please click on the picture below for details.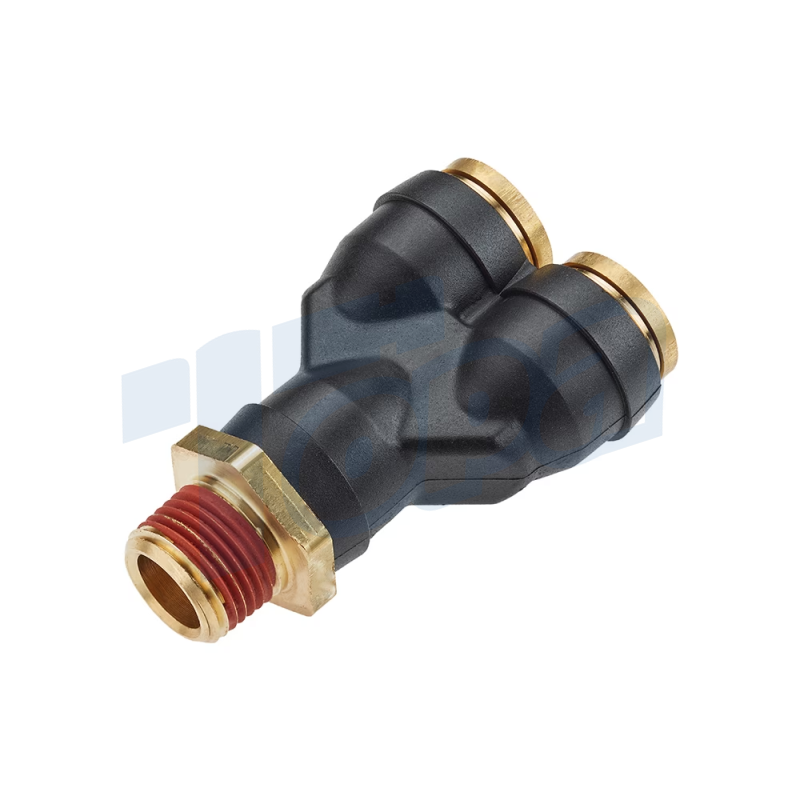 Male union Y connector, composite brass adapter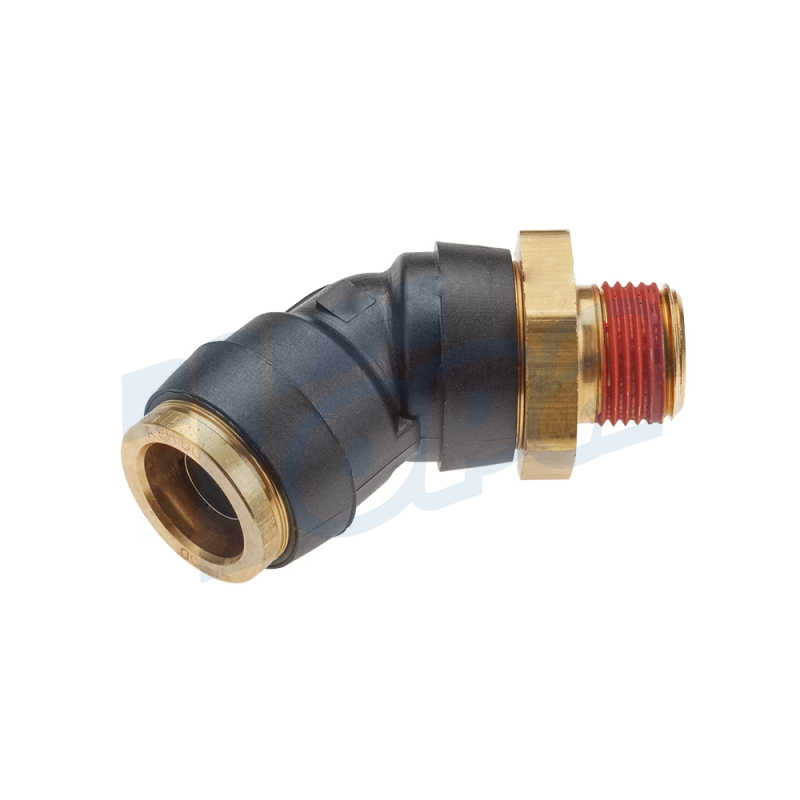 Male 45-degree elbow swivel push in adapter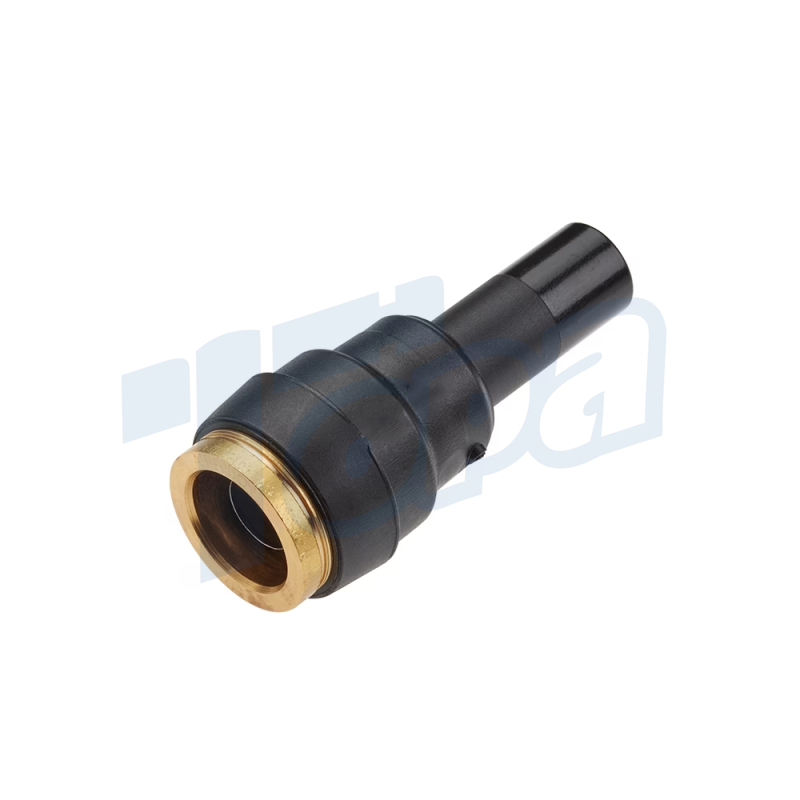 Plug in composite adapter, straight dot fitting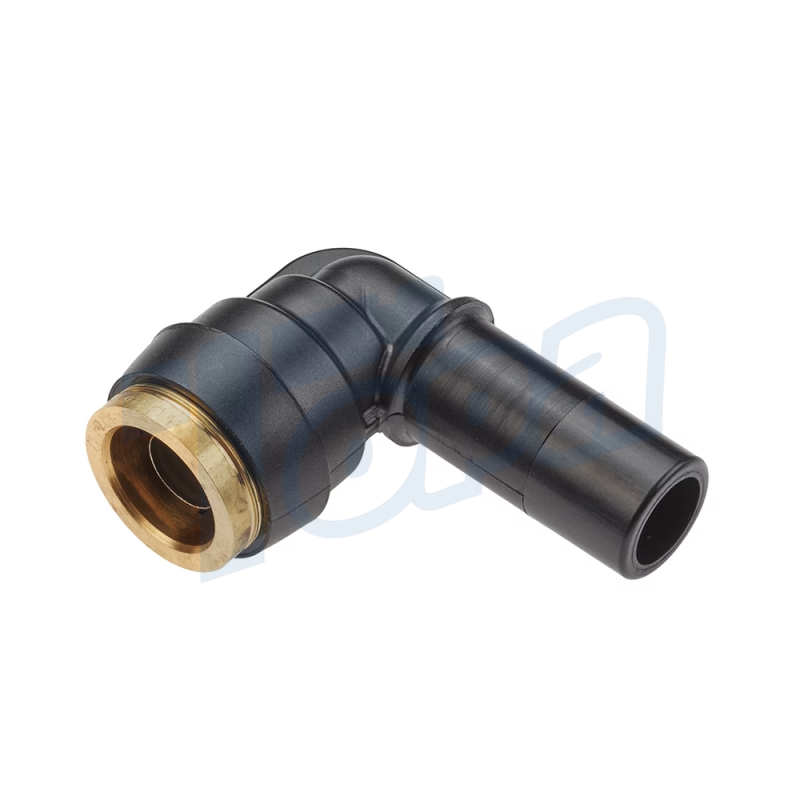 Plug in elbow adapter, DOT composite brass fitting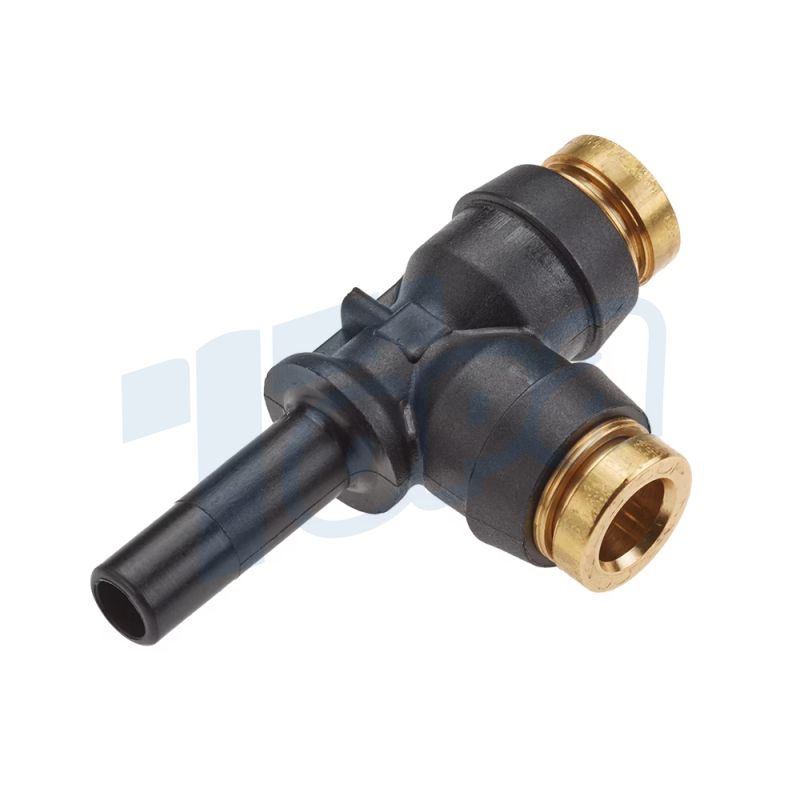 Plug in run tee adapter, composite DOT fittings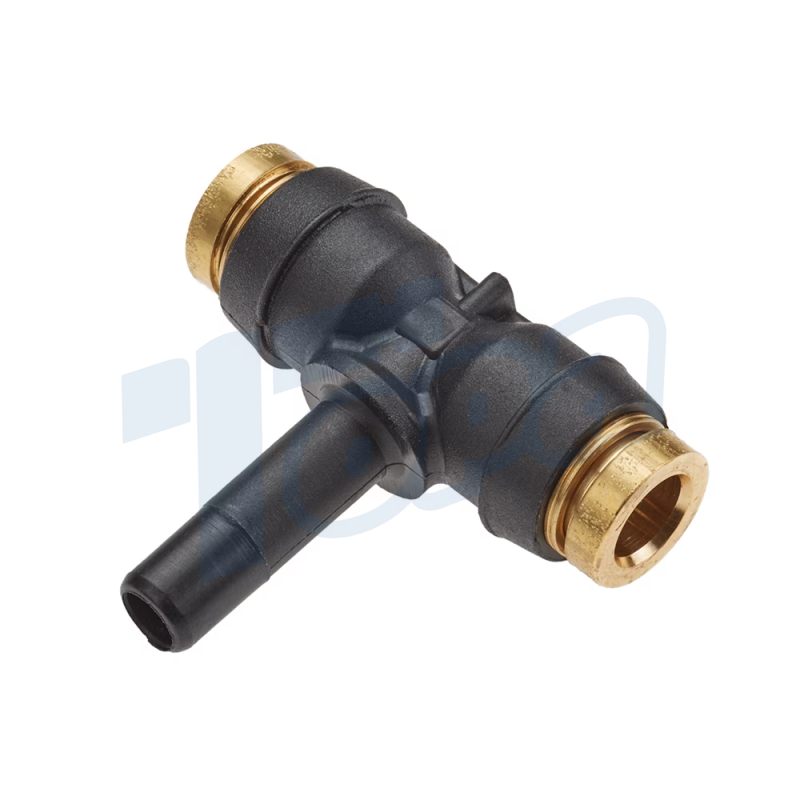 Composite plug in branch tee adapter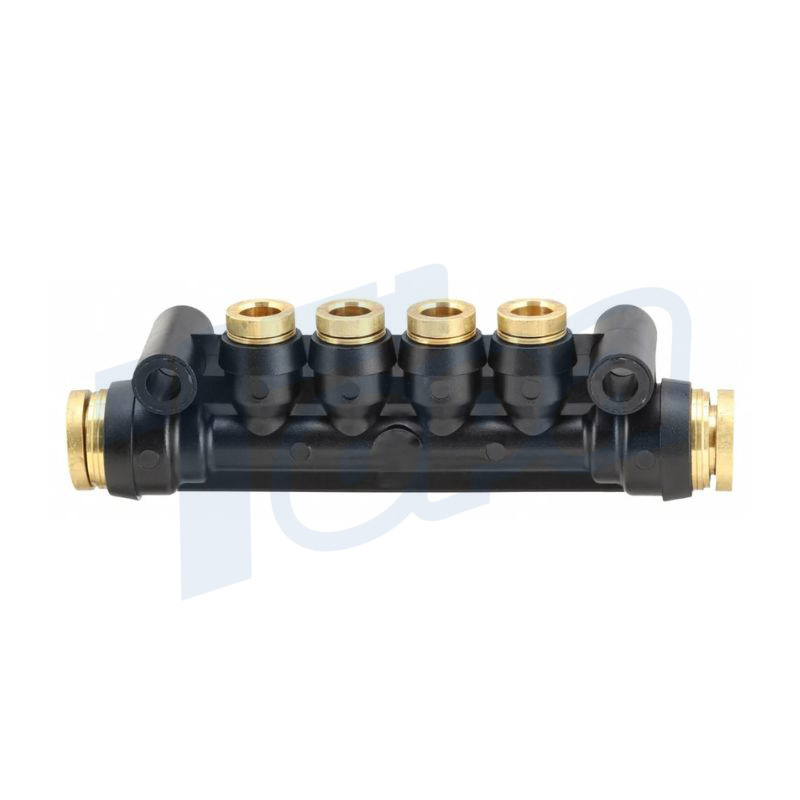 Presto Manifold 24M, brass composite push in fitting
Our D.O.T. quick connect Plug-In Fittings are the industry standard when it comes to repairing and maintaining air brake systems on semi-trucks, trailers, buses, and a variety of other mobile equipment. These fittings meet D.O.T. FMVSS 571.106, SAE J2494-3, and SAE J1131 standards for the perfect balance of durability and efficiency. Manufactured from composite materials, these fittings are strong, lightweight, and impact-resistant, with stainless steel tube supports that meet the stringent requirements of SAE J2494-3 to ensure optimal flow.
Designed with ease of use in mind, these fittings greatly speed up the assembly process and save up to 90% of the time compared to traditional compression fittings. Push-to-connect air fittings are ideal for secondary air applications such as track pneumatic doors, pneumatic seats, and shock absorbers, providing a quick, leak-proof tube connection. Their versatility makes them a top choice for fleets, repair shops, and farm machinery dealers who need a fast, reliable solution for servicing nylon brakes and secondary airlines.
Known for its corrosion resistance and excellent electrical conductivity, brass stands up well to heavy-duty use and is a reliable choice for a variety of applications. Its durability ensures long-lasting performance and reduces the need for frequent replacement.
Composite materials are made up of materials such as plastic and can be used with brass fittings, offering the advantage of lighter weight and easier handling and installation when both of them are used together.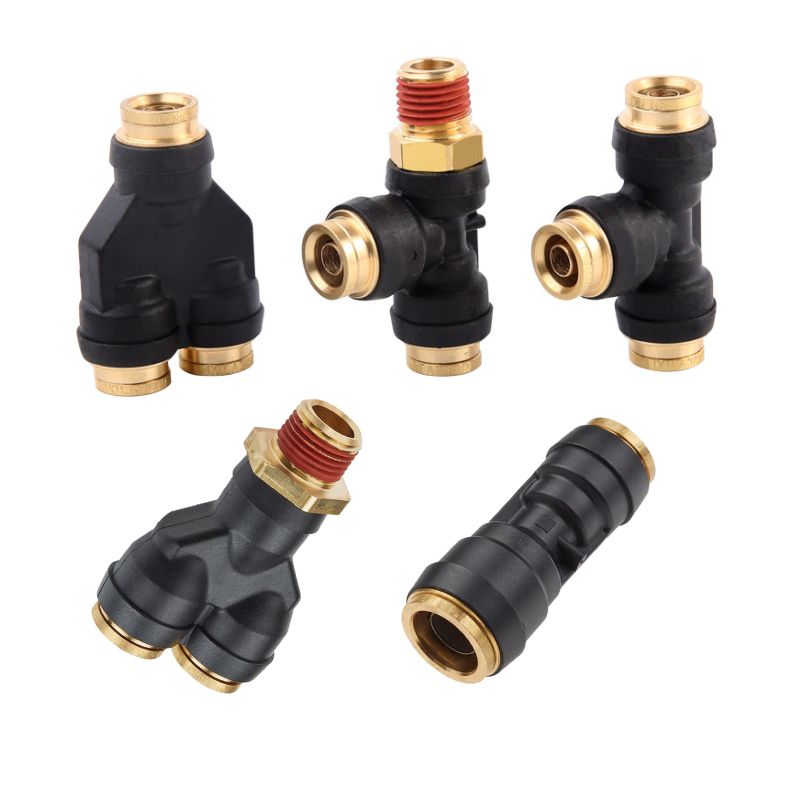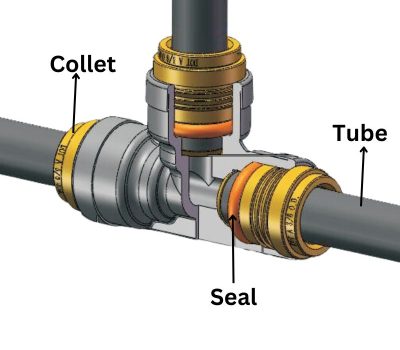 Shorten assembly time: Say goodbye to the tedious assembly process associated with compression fittings. Our push-to-connect design reduces assembly time by up to 90%.
Versatility: Push connect air fittings are incredibly versatile as they are compatible with a wide range of vehicle systems including trucks, trailers, and rail systems.
Standards Compliance: D.O.T. and SAE specifications are stringent international requirements for DOT composite fittings, and these standards prove that DOT fittings are perfectly suited for each application.
Leakproof Design: Given the critical nature of pneumatic braking systems, a leak-free design is essential. Brass composite fittings are designed to be completely leak-free, allowing the braking system to operate safely.
Ease of Service: Composite dot air fittings make servicing a breeze for fleet managers, repair shops and implement dealers.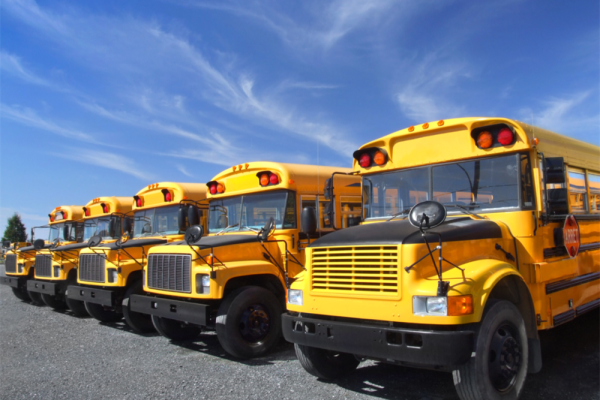 Designed for city buses and coaches, our D.O.T. quick connect couplings offer unmatched reliability and performance. Whether you're traveling through a busy city or on a long highway, these couplings ensure that your air brake system operates flawlessly. In addition to primary and secondary brake lines, they are perfect for other pneumatic applications such as door systems, pneumatic seats and in-cab controls. Simplify maintenance and increase the safety of your passenger transportation operations with these quality fittings.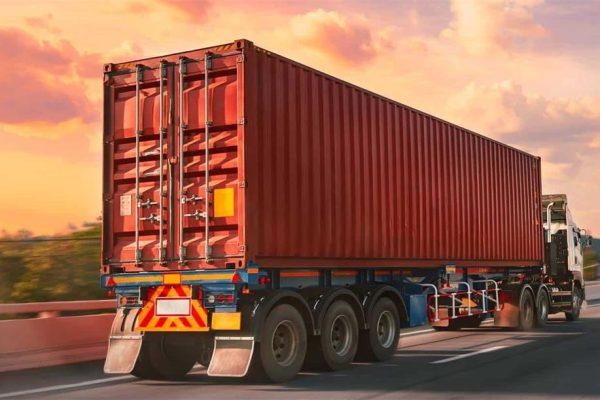 Our D.O.T. push to connect fittings are the preferred choice for heavy duty trucks that require a rugged and reliable air brake system. These fittings excel in both primary and secondary brake line applications, providing unmatched performance and safety. In addition to air brake systems, they are perfect for tire inflation systems, providing fast, leak-proof connections that stand up to the toughest conditions. By dramatically reducing installation time – up to 90% faster than traditional compression fittings – these composite push-in fittings have become a key part of keeping fleets running efficiently.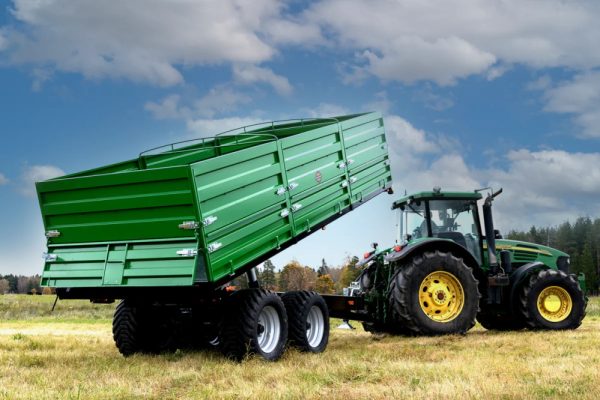 The safety and performance of trailers is critical, especially in air braking systems. Our couplings provide an extra layer of assurance by not only meeting but exceeding D.O.T. and SAE performance requirements. These couplings are not limited to air brakes, however; they are also well suited for other pneumatic applications within the trailer, including air suspension and auxiliary systems. They feature a quick-connect design for fast assembly and maintenance, which is critical to keeping your trailer up and running.
In hydraulic and pneumatic systems, especially those used in braking systems such as heavy-duty trucks, trailers and buses, the quality of the fittings makes all the difference.Topa D.O.T. push-in ptc connectors combine innovation, excellence and reliability to set a new benchmark in the industry. Here's why you won't regret choosing our parts:
With a team of 50 highly skilled professionals, Topa Hydraulics prides itself on not just providing you with products, but with comprehensive solutions. We are customer-focused, which means we are always available to help you with any problem or challenge you may be facing.
When you choose Topa D.O.T. Plug-in air couplings, you're not just buying a product, you're buying a long-term investment in quality, efficiency, and peace of mind. For more information or assistance, please feel free to contact us; we will ensure your complete satisfaction.
Comprehensive Quality Control
We implement a rigorous quality control process that scrutinizes each product at multiple stages of manufacturing. This includes visual inspections, mechanical testing, and functionality assessments to ensure that every product that leaves our facility is flawless.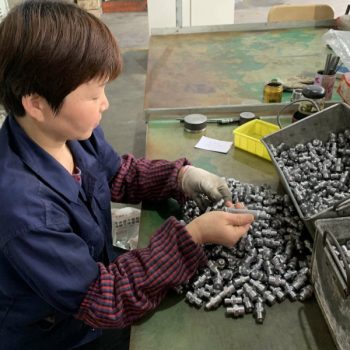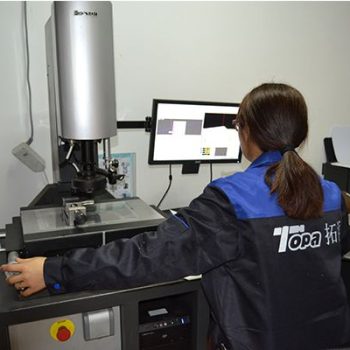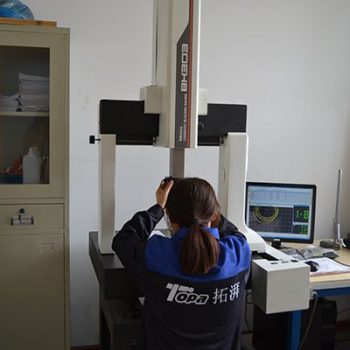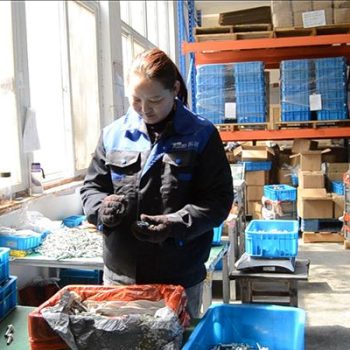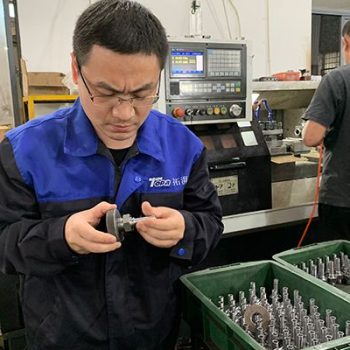 What standards do Topa D.O.T. Push-In air fittings meet?
Our fittings are engineered to meet and exceed D.O.T., SAE, and other relevant industry standards, ensuring maximum safety and performance.
How do composite DOT fittings save assembly time?
D.O.T. push-in air couplings can be installed directly with the hose without the need for additional tools, so they save most of the installation time.
Can these fittings be used in applications other than air brake systems?
Yes, these couplings are versatile and can be used in a variety of pneumatic applications, including service systems, tire inflation systems, pneumatic doors, pneumatic seats, etc.
What materials are these fittings made of?
Push-in composite fittings are made of both composite and brass, each with their own advantages for different applications.
What are the types of DOT composite fittings?
Union, Straight, elbow, tee, and Y DOT push on connectors.
How do I know if these fittings are compatible with my existing system?
Our fittings are designed to be universally compatible with most standard pneumatic and hydraulic systems. For specific compatibility questions, please contact our technical support team.
Are these fittings leakproof?
Yes, the innovative design ensures that the pipe connections are leak-proof, providing you with a reliable and efficient pneumatic system.
Do you ship internationally?
Yes, we have customers all over the world and can ship our products to various countries. For shipping rates and delivery times, please contact our sales team.
What tubes are compatible with composite fittings?
SAE J844 Type A and Type B nylon air brake hoses, and flexible air brake hoses.
Do you offer volume discounts when buying in bulk?
Yes, we offer volume discounts. Please contact our sales team for more information on bulk purchase pricing.