Description
Straight Union Composite DOT Fitting
The Push-Lock union composite DOT fitting is a straight adapter. It is made of brass and composite materials and meets SAE and DOT standards. The fitting is made of a strong, lightweight composite material that is impact-resistant. Topa PTC composite fittings are ideal for all your air brake and secondary airline needs.
Applications:
• Air brake systems
• Cab controls
• Air tanks
Topa can also provide customized service, Send us the detailed parameters and we can arrange the production for you.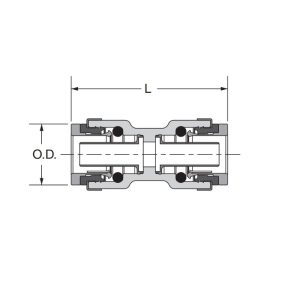 Part#

Tube Size(1*2)

L

O.D.

Description

369PTC-04

1/4

1.33

0.53

Union

369PTC-06

3/8

1.61

0.73

369PTC-08

1/2

1.75

0.88

369PTC-10

5/8

2.15

1.02

369PTC-12

3/4

2.50

1.17

369PTC-10-12

5/8*3/4

2.91

1.21

369PTC-06-04

3/8*1/4

1.57

0.74

369PTC-08-06

1/2*3/8

1.95

0.91
Straight Union Composite DOT Fitting Video
This video shows Topa's composite push-lock connectors, which are fully D.O.T. approved. DOT push-in fittings are safe and meet strict standards, making them great for pneumatic brake systems.
Every brass fitting is made in our own Topa factory, following all D.O.T. guidelines to ensure they're accurate and up to code.
If you need additional information or take an order tailored to your requirements, don't hesitate to contact us!